[home] [surname index] [Wachdorf index]
Louis A. Adams 1-9-1916 to 6-22-2002
parents: Harvey Adams and Hazel Young
married in 1943 to: Blanche Wachdorf, daughter of Joseph Wachdorf and Jessie McCormick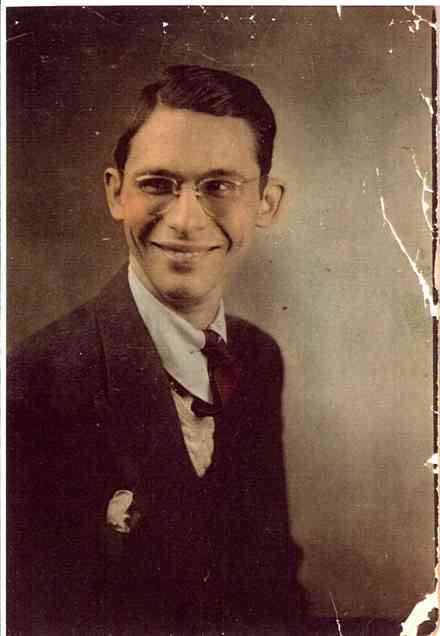 I have blanked out the names of current generation people.
Transcribed from the online edition of the Lawrence (KS) Journal-World, June 24, 2002:
Louis A. Adams, Oskaloosa: He was born Jan. 9, 1916 in Chicago, the son of Harvey and Hazel (Young) Adams. Mr. Adams was a photographer for many years. He married Blanche May Wachdorf in 1943. She survives in Claremore, Okla. Other survivors include two sons, ****, of Oklahoma, and ****, of Oskaloosa; two daughters, **** and ****, both of Claremore, Okla; seven grandchildren; and four great-grandchildren. Barnett Funeral Home, Oskaloosa, is in charge of arrangements.
2nd obit posting from online, ljworld: Oskaloosa: no services are planned for Louis A. Adams, 86, Oskaloosa, formerly of the Lake Side Village community of Ozawkie. Cremation is planned. Mr. Adams died Saturday, June 22, 2002 at Hickory Pointe Care Center, Oskaloosa, after a long illness. He was born Jan. 9, 1916, in Chicago, the son of Harvey and Hazel (Young) Adams … continues identical to first.
ADAMS GENEALOGY
One of Lou's daughters did the research for this branch of the family, and shared it in an email in March 2007. She said, "The parents of Helen Hazel Young (Lou's mother) were Alexander T Young and Lenora Hatch. Lenora Hatch was the daughter of Larkin Hatch and Rebecca Ferrin. Larkin can be traced back to Asa Hatch and Roxana Delano, a descendent of Timothy Delano whose Great Grandfather was Phillip Delano. Phillip came over on the Ship Fortune in 1621. Phillip Delano and Hester Dewbury had 12 children. One was Thomas Delano, who married Mary Alden in 1667, daughter of John and Priscilla Mullins Alden. It is also noted that we was married to Rebecca Alden in 1699. This is the same John Alden we read about in school.
"Alexander Young (Lou's maternal grandfather) was the son of James R. Young and Margaret Baird Young. Margaret and her sister were part of the Jones Colony as it was called in Canada. The story goes that Margaret and her sister arrived with their father and brothers in 1829. Supposedly the two sisters left the Jones Colony and traveled twelve miles east from the river, down the river six miles to the Bruce Crossing, crossing the river in a canoe with an Indian guide. They then went north six miles to Fort Gratiot. In 1831 Elizabeth Baird married Richard Allington. Her sister married Alexander in 1864 and often was referred to as Nora Hatch. As listed in the book, 'St. Clair County, Michigan: Its History and Its People' by William Lee Jenks.
"In the 1900 census it shows my grandfather Harvey (Adams, father of Lou) with his father at the age of 12, then in 1902 my great grandfather Louis died. So my grandfather was next recorded as living with his Aunt Pauline in 1910. When my father's mother, Hazel, died in 1918, my father was three, and the 1920 census shows him living as a boarder with my Grandfather Harvey. After my grandfather remarried the story goes (from my father) that the new wife did not want my dad there and my grandfather sent my dad to live with aunts and uncles. My dad never reconciled with his father so it was easy for him to uproot my mother and move away from Chicago and ties."