[home] [Pfleger index] [surname index]
Article, Southtown Economist 7-28-1926
Mr. and Mrs. Hubert Wirtz To
Celebrate Golden Wedding
Fifty years ago August 2, St. Martin's Church, 59th st. and Princeton ave. was the scene of the marriage of Mr. and Mrs. Hubert Wirtz.
Monday it will again be the scene of their wedding, this time golden, to be observed at 9 o'clock in the morning with solemn high mass, celebrated by the Rev. Frank J. Schikowski.
Following the mass a reception will be held at the home of a daughter, Mrs. E.H. Wiedeman, 6207 (might say 6297) Mozart st. Mr. and Mrs. Wirtz have lived at 5405 Shields ave. since their marriage 50 years ago. Other children are Mrs. O.S. Pfleger, 5648 Wells st., Mrs. E.J. Enk, 5405 Shields ave., Sister M. Louise, Milwaukee: A.G. Wirtz, Midlothian, and Charles Wirtz, 1283 Early ave. There are 17 grandchildren in the family as well.
Music and a program will entertain the 130 friends and relatives who have been invited to the reception.
This is a photo gallery associated with the Hubert Wirtz page. All are stamped on the back Aug. 2 1926. Captions are below the gallery. Click on image to enlarge. Once enlarged, to zoom, move cursor to right of image, back onto image, and click again.
fr. left, Eleanor, Gert, Mary, Barbara, Annie, Tony, and in front Robert W., Mary, Hubert, Anthony E (full caption below)
from left: Eleanor Pfleger, Mary Krump Wirtz, Robert Wirtz, Hubert Wirtz, Anthony Enk
see bottom of page for second copy with attempted i.d.
the date stamp on the back of all these photos
Many thanks to Hubert Wirtz's granddaughter, Eleanor, for identifications.
Photo 1 (relationships relative to Hubert Wirtz) left to right back row: granddaughter Eleanor Pfleger, daughter Gert Wirtz Wiedeman, daughter Mary Wirtz Enk, daughter Barbara/Sr. Mary Louise , daughter Annie Wirtz Pfleger, son Tony Wirtz. Front row (seated) wife Mary Krump Wirtz, (standing) grandson Robert Wirtz, (seated) Hubert Wirtz, (standing) grandson Anthony Enk
The photos below are enlargements of the outdoor group shot, broken into left and right halves with some overlap. If there is an identification for a person, when you move the cursor over the person's eyes in the photo, the name should appear (and if you click you will be taken to a page for that person or mentioning that person).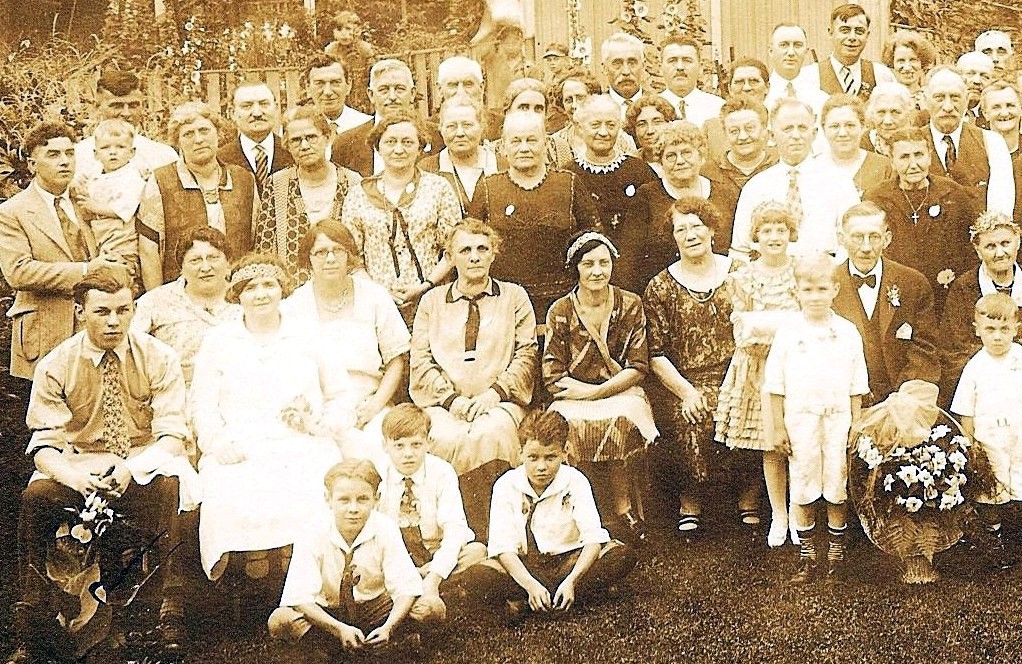 And now the right side of the picture.