[home] [Sims index] [surname index]
Contents of page: photographs, reminiscence (by her grandson), paper trail (marriage record, census, obituary). Additionally there is a page for the Transcription of a taped 1998 conversation with Mary Lou Hardison in which she is discussed (as is her sister-in-law, Lena).
Effie Ann Amos Sims

1-24-1872 to 2-15-1949

Siblings

c.1854- Kate Moore

c.1860-Mary Callis

c.1867-Ernest

1869-James Amos

c.1877-Lena

plus one more

married 1890

to

6-10-1861 to 11-16-1928

Children

Robert Leslie Sims

Lyda Sue Sims (Hardison)

parents:

&

(sometimes called Eliza)

spouse's parents:

&

maternal grandparents:

paternal grandparents:

maternal aunts & uncles:

paternal aunts & uncles:
Click on image to enlarge. Once enlarged, to zoom, move cursor to right of image, back onto image, and click again. There are likely more photos of Effie and family members in the photo album c WWI that her daughter Lyda Sue put together.
John Sims, daughter Lyda Sue, Effie Ann Amos Sims

Lyda Sue, Effie Ann, and Effie's sister-in-law, Lena Amos (baby unknown)

grave of Effie Ann Amos Sims and John PG Sims, Bellevernon Cemetery, Friendship, TN
By her grandson L.C. Hardison c. 1995:
She was a very small person, perhaps five feet tall, and thin to the point of emaciation. She was quite wrinkled (this was in the 1930s) and seemed to me to be very old. She wore glasses, perhaps the only person I knew at the time who did, and she dipped snuff. This was a really disgusting habit that made the inside of her mouth look black, and involved a lot of spitting of disgusting looking stuff. She wore her hair gathered behind her head and tied into a sort of bun, which emphasized the boniness of her face. I was surprised to see her once with her hair down, because it was quite long and made her appear an altogether different person...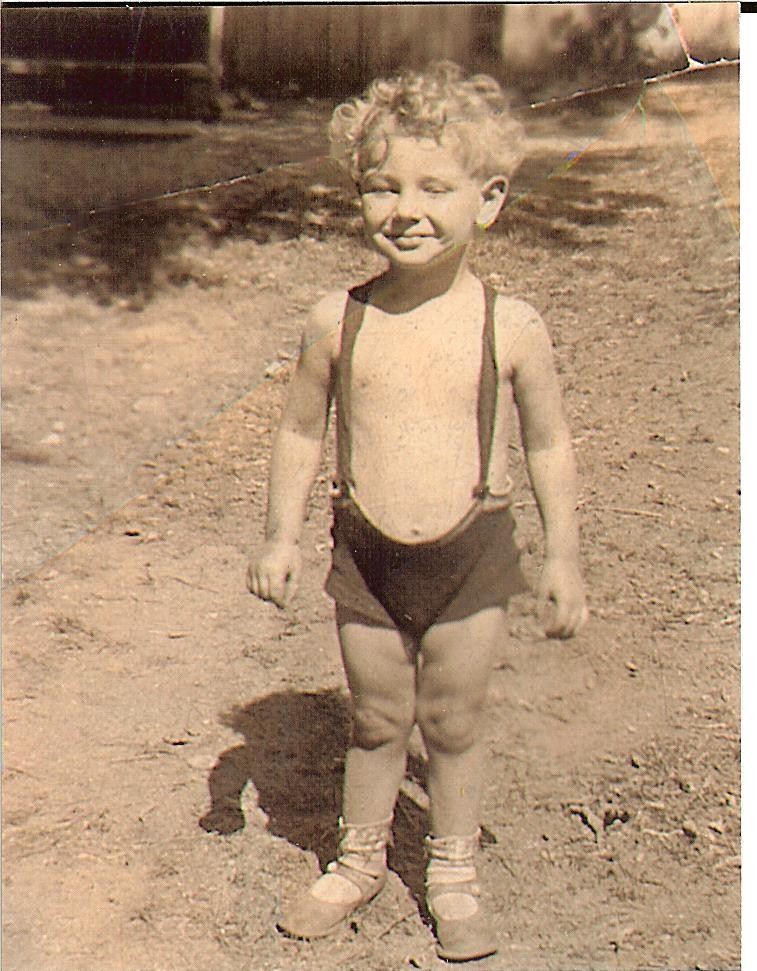 One of my early recollections, which I can't place in time, was at the house in Friendship, Tennessee. My grandmother said she would go out and get a chicken for dinner. I followed along. This tiny (probably not more than 90 pounds), frail and very religious old lady went out into the back yard where the chickens were kept, and picked one out that was walking around, pecking at things on the ground. It was a black and white speckled chicken which I think was a leghorn. It looked quite large to me, in comparison to the other chickens that were meandering around the yard. There wasn't any grass as I recall, just hardened mud.
My grandmother walked slowly up to the chicken, which did not seem to pay much attention to her. She reached out and picked it up by the head and gave it a huge swing around in the air. The chicken's head came off in her hand and the headless body ran away, circling around the yard, spraying blood all around. I was scared out of my wits. It never occurred to me that such a violent thing ever happened to anyone or anything. And that my grandmother was the one doing the violence was shocking...
Effie, as my father called her, was sick a lot. She needed various medications, and often had symptoms that were very variable. My father claimed that her sickness came and went pretty much in time with her bouts of displeasure with him...My Grandmother Sims must've resented my father from the beginning of the marriage to my mother, which involved "running off" to live in Chicago, which was a sinful and unhealthy place. It was not made any better by my father losing a very good job and good prospects because the company was having financial troubles. My parents lost the house they had bought just before the Depression started and went from the 1920s version of yuppies to essentially destitute. My Grandmother could not forgive my father for the Depression.
According to their grandson (who remembered because it was a mystery to him), John Sims sometimes called Effie "Polly" and it made her furious.
1880 census, Gibson County, TN, Grices
Thomas Amos, age 52, farmer, born in IN of parents born in KY
Wife Sarah E. Amos, age 43, born in TN of a father born in AL and a mother born in VA (All kids born in TN)
Daughter Mary E. age 20
son Earnest C. age 13
son James T. age 10
daughter "Effa A." age 8
daughter Lena M. age 3
Also in the house: Mary V. Paul, age 70, mother-in-law, born in Virginia of parents born in PA.
Gibson County TN marriage records show Effie Amos wed John Sims in 1890 (the Sims book says 1891). Details of how they met in her obituary, at the bottom of this page.
1900 census, Crockett County TN, Civil District 9.
"James" Sims, age 38, born Jun 1861 in TN (doesn't list where his parents were born), married 10 years, occupation: physician
Wife Effie A., age 28, born Jan. 1872 in TN of a father born in Indiana and a mother born in TN, married 10 years
Son Robt L, age 9, born January 1892
Son Paul, age 7, born Dec. 1893
According to the information taken from the internet, John and his sons founded a newspaper in Kentucky within three years of 1909.
1920 census, Crockett TN, Civil District 12, Tigret Road (renting):
JP Sims, 58, printer--newspaper company, born TN of father born in TN and mother born in Alabama (it looks like)
Wife Effie Sims, 47, born in TN of a father born in IN and a mother born in TN
Son Leslie Sims, 28, single, editor--newspaper
Daughter "Lydia" Sims, 19, single, typesetter in printing office.
1929 baby book of her grandson LC Hardison lists among the gifts $25 from the baby's "Grandmother Sims."
Crockett County Sentinel, Thurs. Feb. 17, 1949: Bells, TN death: Mrs. J.P. Sims died at the home of her son, Leslie Sims in Alamo, Tuesday at 3 a.m. A member of a West Tennessee pioneer family, she was born in Trenton in 1872 and was the daughter of the late Tom Amos. She came to Crockett County as a school teacher in her teens and made her home with her sister, the late Mrs. Kate Moore. Here she met and married Dr. J.P. Sims. She leaves two sons, Leslie Sims, Editor of this paper and Paul Sims, Editor of the States Graphic in Brownsville; one daughter, Mrs. W.L. Hardison, of Chicago, Illinois. Funeral services were held Wednesday at the Church of Christ in Friendship, burial in Bell Vernon Cemetery.
Tri-County News, published by Effie's son, Leslie Sims, has these mentions:
7-7-1913 Manie Callis of near Dyer is the guest of her sister, Mrs. J.P. Sims...George Callis of near Dyer was here last week.
9-11-1913 George Callis and family of near Dyer visited relatives near here last week.
9-25-1913: George Callis of near Trenton visited Dr. J.P Sims and family Monday... Mr & Mrs JT Amos and children of near Dyer visited Dr JP Sims and family this week.
12-11-1913: Will Amos of Dyer was a visitor here Saturday and Sunday.