[home] [Avery index] [Hardison index] [surname index]
To join the Pate family DNA Project, go to http://www.familytreedna.com
and enter Pate in the search engine.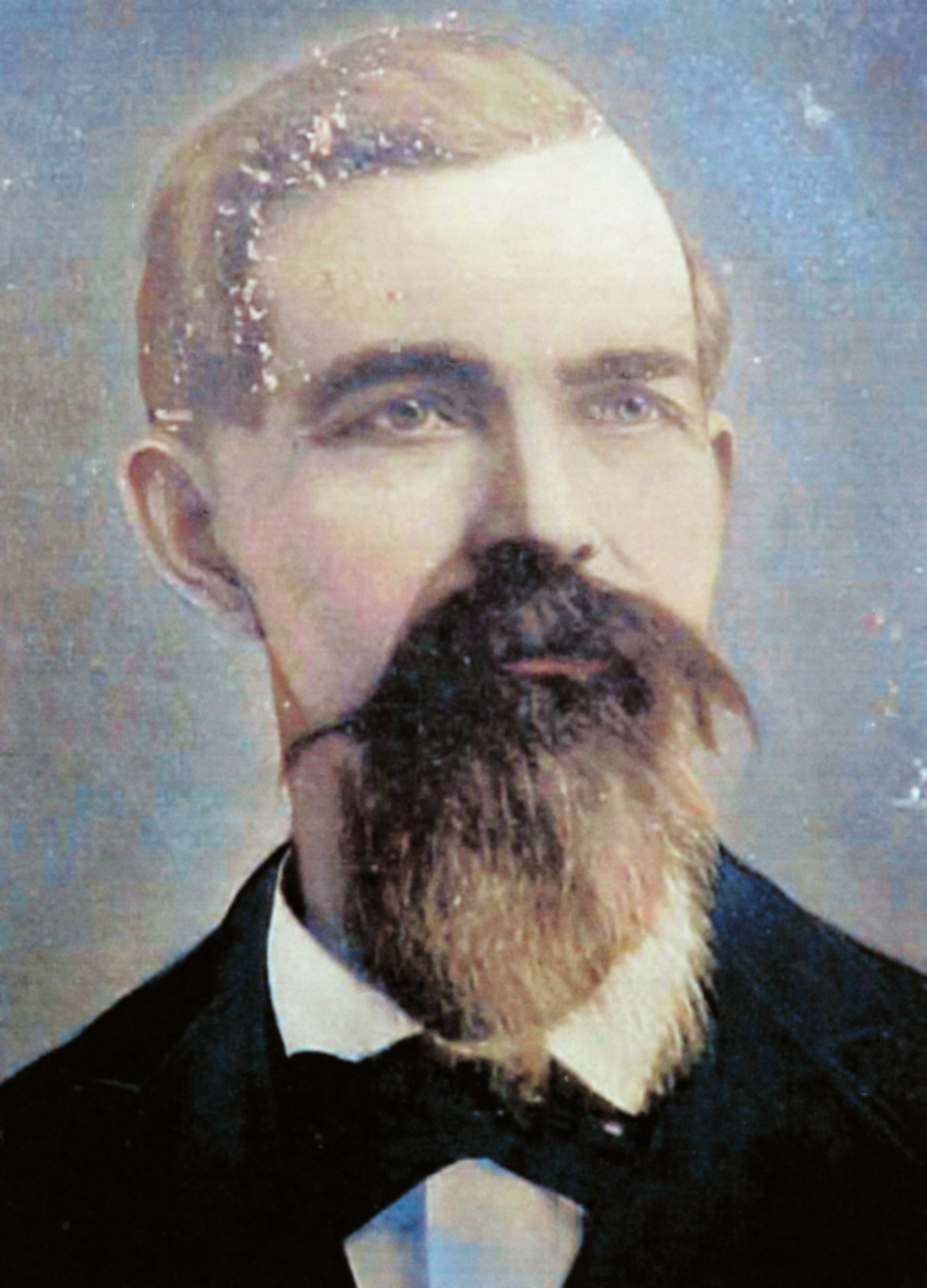 Photo courtesy of Alice Peterie, great-great-granddaughter of BG Pate, who also sent the Civil War Pension application scanned below.
Bolin Green Pate

10-17-1843 to 2-5-1913

Siblings

c.1845-Alexander

c.1847-Amanda

c.1849-Emily/Ann

c.1850-Martha

c.1852-John

c.1853-Mary (Nichols)

1856-Sarah Pate (Quinley)

c.1858-Tealitha Pate(Coburn)

c.1860-Alice

c.1864-James

1880 census Elnorah Warmath's mother = Margaret Pate

Not sure all of these are Margaret Pate's children, some perhaps wards

married

to

Mary A. Williams

died 1884

Children

c.1867-Charley

c.1869-James Solomon

c.1872-Lucy

c.1876-Ella Izora (Wright)

parents:

James M. Pate

&

spouse's parents:

&

maternal grandparents:

paternal grandparents:

maternal aunts & uncles:

c.1823-Sarah Elizabeth Avery Babb; 1828-M.J. (Spencer & Bodkin); c.1829-James F Avery; c.1832-John H Avery; c.1834-Martha Avery Tatum; c.1836-Frances Avery Booth; c.1838-Emily Avery Tatum; c.1840-Henry Avery; c.1842-William A.G. Avery; c.1844-Thomas Avery; c.1846 Louisa/Margaret (Aspray)

paternal aunts & uncles:
1850 census, Gibson County TN, District 16:
James M. Pate, age 30, farmer, born TN
Margaret Pate, age 20, born TN
Bolin Pate, age 6 (apparently born when his mother was 14)
Alexander Pate, age 5
Amanda Pate, age 3
Emily Pate, age 1
Martha Pate, age 6 months
Robert Armstrong, age 18, farmer, born TN
(The Pates are household 495. Avery grandfather is household 493 and aunt Sarah Elizabeth Babb is household 498. RL Avery, whom I think is great-uncle Reuben T. Sidney Avery--is household 496.)
1860 census, Gibson County District 4, post office Quincy
NOTE when children's birth order deviates from chronological, it often indicates they are not all of the same parents
J.M. Pate, age 41, "B. Smith", real estate value $1000, personal estate $1000, born Alabama
Margrett Pate, age 29, born TN
Bolin Pate, age 16
Amandie Pate, age 13
John Pate, age 8
Ann Pate, age 11
Mary Pate, age 7
Sarah Pate, age 5
"Tillitha" Pate (female) age 2
Elizabeth Armstrong, age 57, white, laborer, born TN
Frank Armstrong, age 18
(The Pates are household 443. Grandfather Avery is household 441. Household 443 is great-uncle Reuben T. Sidney Avery. Household 446 is Henry Babb, aunt's husband)
Many thanks to Alice Peterie (great-great-granddaughter of BG Pate), who sent a copy of his pension application (scanned below). It states, in part, that BG enlisted in July 1861 "in Capt McMurray's company the 22nd Tennessee which afterwards consolidated north twelth Tennessee." (guessing that the word is "twelth," hard to tell with old cursive handwriting). Engaged in the following battles: Shiloh April 6-7-1862; Murfreesboro Dec. 31 1862; Chickamauga Creek Sept 19-20-1863; Richmond KY Perryville KY, Franklin Tennessee & Nashville Tennessee and nearly all battle the middle ... fought and ... from Nashville to Corinth." (See scan of bottom half of page one for parts I did not successfully decipher.)
The nature of his disability was Erysipelas, a bacterial infection akin to cellulitis, also called St. Anthony's Fire (if you're feeling brave, do a google image search of erysipelas) that causes painful swelling, blistering, ulcerations, fever, and debilitation. In response to "Were you incapacitated for service by reason of said...disability?" BG answered, "Chattanooga not able to walk on account of erysipelas." Asked if discharged due to the disability, his answer was, "Transferred from company to drive wagon train." At the close of the war he was home, having been sent on a 30 day furlough from Corinth MS and unable to return due to erysipelas in feet and legs. The furlough was granted January 1865 but "on account disability and erysipelas in his feet and lower legs ord not return to the army." He married in 1866.
Click on image to enlarge. Once enlarged, to zoom, move cursor to right of image, back onto image, and click again.
page 1 top, name, current residence, birth date and place, regiment

page 1 bottom, listing battles, place of enlistment, disability erysipelus, transfer to wagon train, discharge

page 2 top, questions about family, business, estate to determine if he can support himself

page 2 bottom, on use of intoxicants, residency in TN, use of an attorney, witness signatures and county trustee statement he has no assets

page 3 top, statement by SS Shelton about BG's chronic ulcer of ankles and lower legs

page 3 bottom, statement by SF Haley (wit. by WC James, notary public) that he served in the same regiment and BG made a good soldier and did his duty
Gibson County marriage records show BG Pate wed M.A. Williams in 1866.
1870 census, Gibson County TN, District 4, household 22
Bowling Pate, age 25, personal estate $200, farmer, born TN
Mary Pate, age 25
Charley, age 3
Solomon, age 1
Betsy, age 68 (no new last name listed)
(household 21 is his parents)
2-10-1871 date of signature on will of his grandfather, Bolin Green Henry Bascom Avery, Gibson, TN Will Book G, page 202. To wife Charity: half of stock, so Jonas and Katy may make a living, house and land on which she lives, beginning line of James F. Avery's 40 acre tract, so as to include the graveyard, and over to the corner of the gin field, including the field to the lane. To son W.A.G. Avery: the rest of the tract to live on. To son James F. Avery: 50 acres. Daughter Martha has had $400 worth of land in Arkansas; must make account to estate before she shares. Grandson B.G. Pate owes me some notes and accounts and he has acted very strange. It is my will that two-thirds of what he owes me be collected and paid his sisters Amanda and Emily. Grandson B.G. Tatum: $150 put to interest, and when he is twenty years old, principle and interest to be paid to him. All others equally. Executors: sons H.B. and James F. Avery
1880 census Dyer County District 2, household 176
BG Pate, age 37, farmer, born TN of parents born TN (same for all of them)
wife Mary, age 33
son Charles, age 13
son James, age 10
daughter Lucy?, age 8
daughter Ellen, age 4
(household 178 is his sister Tealitha Pate Coburn, household 179 is his sister Elnora Pate Warmath & his mother & his brother James)
1900 census, Crockett County District 12
Wesley E. Clark, age 24, born May 1876 TN of parents born TN, married 3 yrs, merchant--dry goods
wife Annie C, age 21, born Apr 1879, mother of one, one living
son Willie R, age 1, born Aug 1898
boarder Bolen G Pate, age 56, born Oct 1843, widowed, salesman--dept? store
NOTE that internet source list Henderson Clark marrying an Elizabeth Pate, and that their son Charles was the father of JW Clark, who married both Sally Clark and Sophie Elizabeth (sisters of GW Hardison, who wed Bolin's cousin Ida Avery).
Civil War Pension Application of BG Pate (see scans above) has early signatures with dates in Dec. 1909, but the property assessment appears to be dated January 1911. It states that his wife died in 1884 and that by 1909 his two daughters and two sons were married, "not with me, they are scattered and I don't know much of there circumstances." In response to, "How have you derived support for yourself and family for the last five years?" BG answered, "haven't had family since 1892." His wife was listed as "Mary A Pate, died," and his property was assessed as "none acres valued at $none, and with $none of personal property." Note that the doctor who signed the application was Dr. Clyde T. Nash and Dyer County marriage records show Dr. C.T. Nash wed Elizabeth Pate 1-2-1921.
Curry Funeral Home records of Dyer County list BG Page, died 2-5-1913, widower of Bonicord, age 70yrs, to be buried in John Pate Graveyard, charge to J.Y. Pate #1, order given by Hubert Moore.
(NOTE: There is a John Y. Pate mentioned in the Tri-County News 6-1-1913, "John York Pate of the Bonicord vicinity was in town last week" and 12-25-1913, "Mr & Mrs J.Y. Pate of Bonicord were shopping in town Friday." However the Agee ancestry on the Crockett County page of TNGenWeb by Natalie Huntley shows Jane Elizabeth Agee marrying John York Pate 10-28-1897 and gives his parents as Matthew Pate and Elizabeth--says he was born 10-28-1877--married on his 20th birthday--and died 1-2-1961. It also gives a previous marriage to Marina Early. Married, lost her, remarried all by age 20, hmm, doubtful).
Excerpts from forwarded email exchange April 2005 between Alice Peterie and Meredith Sheridan
Alice to Meredith: "I've always wondered why my great-great-grandfather Bolin Pate and his wife Mary Williams were not buried in the Pate/Shelton Cemetery, but instead in the middle of a cornfield down the road from the cemetery. The farm right now is owned by a Tommy Holland, before him the Thornton family, then Thomas Thompson bought from J.F. Hardison in 1886, then in 1879 W.J. Miller sold to J. Hardison. That is as far back as I had time to check...When I visited the graves a neighbor told me that she heard all the land around was originally Pate land."
This was in reply to Meredith Sheridan's report about Bolin & Mary's tombstones that, "Margaret did say that they were 'thrown in the river'...It would be interesting to know if the tombstones were dumped because of what was on them rather than the land wanted." Meredith Sheridan said later in the email exchange, "I THINK I remember that it was a Pate who did the throwing. This is from Margaret. Those markers are supposed to be in the river. Is there a river next to the land?"
To which Alice replied, "Yes, there was a small creek running on the other side of the cotton field. Not sure if that is the one or not."
NOTE: J.F. Hardison mentioned in the first paragraph is probably John Franklin Hardison, brother-in-law of both Ida Tennessee Avery Hardison (Bolin's cousin) and Missouri Miller Hardison (perhaps kin to the Miller who sold him the land).
Email July 2007 from Jinks Pate-Lee said, in part, "I visited with some of John York Pate's descendents in TN several years ago and they had a framed picture of the Pate family tree hanging on the wall--I copied everything I could from it. There is a Bible record, but don't know who has the Bible--it belonged to Ella Izora Pate Wright--shows birth and death of Bolen Green Pate--he is buried in the Pate Cemetery in Dyer County. Alice Peterie is the one who sent me the Bible records--Ella Izora (Pate) Wright was dau of Bolin Green Pate, and she was b. 26 Jan 1877, married Louis Calvin Wright on 23 Dec 1894. Bolen G also served in the Civil War and applied for a pension in 1910...Bolin Green Pate born 17 Oct 1843..."
NOTE: John York Pate is possibly the J.Y. Pate listed in the Curry Funeral Home records as the one paying for Bolin Pate's burial.
Info on BG's daughter Ella and Louis Wright:
1900 census, Crockett County District 9 (very blurry ink)
"Buck"? Wright, age 27, born Jan 1872, married 5 years, farmer, TN
wife Ella, age 23, born Apr (illegible), mother of two, both living
daughter Jenie, age 4, born Mar 1896
son George, age 2, born Feb 1898
1910 census, Crockett County District 9
Louis E or C Wright, age 42, in 1st married 15 yrs, farm laborer--working out
wife Ella, age 32, m1 15 yrs, mother of 5, four of whom are living
daughter Genie May, age 14
son George H, age 11
daughter Mary, age 9
son J.B., age 3
1920 census Crocket District 13
LC Wright, age 52, farmer
wife Mary, age 42
daughter Mary, age 18
son J.B., age 12
daughter Louise, age 7
daughter Geanie M Badgett, age 24, widowed
granddaughter Virginia M Badgett, age 2 years 2 months (taken in Jan), father born TN