[home] [Avery index] [Hardison index] [surname index]
Many thanks to Andy Clay Harris for information from his deeply detailed family tree, and also to Carol Norville Berning for information and especially the photograph of Rev. William "Alexander" Avery. Anything in italics within the framed section represents something that differs from Andy Harris' original information, but is supported by something beneath the framed section.
Photo beneath framed info
Rev. William "Alexander" Avery

8-11-1809 to 12-19-1904

Siblings

1800-Eliza Warren

1803-BGHB Avery

1807-Winifred McEwen

1811-Drury Vinson Avery

1813-Troy (prob same person as Reuben T)

1815-John Avery

1820-HDC Avery

1822-James A. Avery

c.1825-Sarah Elizabeth Avery (McDouglad) (Hall)

William "Alexander" was born in NC, moved with his parents to Gibson Co, TN, and then converted to Methodist and served in Ark.

(see below for details)

1st marriage 5-8-1840

to

Rosanna Reed

she died in 1845

2nd marriage 7-6-1853

to

Lucy Jane May

both in Hempstead Co, ARK

Children

c.1843 Alen Olen (died at

15 months)

c.1845 Jimmy (died 1846)

by Lucy Jane May

1856 Alexander Banks "Bee"

1859 Rosa

1864 Lettie

1866 Drury Vinson "Drew"

1868 Andrew Hunter

c.1870 William May

1872 Lucy Leona

1882 Sarah Elizabeth

the 1900 census shows granddaughter Lucy or Lessy or ? Wym living with Alexander Avery & Lucy

parents:

&

Lucy May daughter of:

James May

&

Letsey Wallace

maternal grandparents:

Drury Vinson & ?

paternal grandparents:

Alexander Averet Sr. & Sarah

maternal aunts & uncles:

paternal aunts & uncles:

c.1764-Margaret "Peggy"; c.1766-female Avery (m. Seals); c.1768-female Avery (m. James); c.1772-Christian Keziah Duncan; c.1776-Sally Norris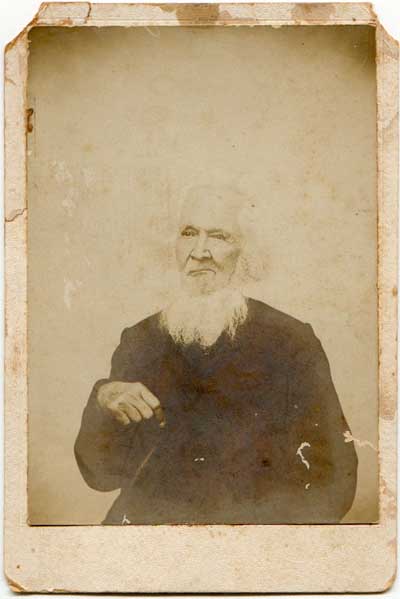 This photograph of William Alexander Avery belonged to Sarah Elizabeth Avery, daughter of Drury Avery & Lucy Catherine Boswell Avery. Sarah was born 6-26-1882. She became the second wife Milton Nathaniel Watson after his first wife, Ella Gertrude Wesson, passed away. Milton Watson's daughter (by Ella) was Buna Vera Watson, and the photo came into the possession of her granddaughter, Carol Norville Berning, who posted it to the Crockett County page of the TN Gen Web, and gave gracious permission to allow it to be reprinted here. Carol stated that she originally posted the photo to the "unknowns" page, and was contacted by Wendell Avery of Alamo, TN, who identified the man in the photo. I will have to get in touch with Wendell.
The following is quoted directly from the Andy Clay Harris family tree (with permission) from an unnamed source obituary: "Alexander Avery entered into rest 12-19-1904 after reaching the ripe age of 95 years, 4 months, and 8 days. He was a traveling preacher for 69 years. His life and ministry link us to the heroic days of Methodism in Arkansas, and reveal the character of the men needed for those days among the hardy pioneers who settled the State. He wore a genial smile, possessed a sunny nature, warm heart, cordial spirit, and was always entertaining; was a man and minister with true dignity of character without stiffness; did not indulge in lightness and frivolity, but the exuberance of his social nature made him a delightful companion to all classes. There was flexibility in him that enabled him to adjust himself to whatever class he was thrown among, and at once made him the leading spirit of the occasion.
"Physically he was rather small of stature, but compactly built and capable of great endurance. His black eyes sparkled with holy enthusiasm as, in later life, he recounted the trials and triumphs of his ministry in the early days of Arkansas. In his palmy days he was a terror to evil doers. His voice was mellow and musical, or like the piercing peals of thunder, as the occasion required. His face became radiant with heavenly light as he portrayed the immortal hopes awakened in us by the gospel of Christ.
"Whether on a mission to the negroes, among the semi-civilized Choctaw Indians, cooking his own scanty, rough fare, and often sleeping upon the ground, traveling large circuits, often swimming swollen streams and sleeping in the huts of the pioneers of the forest or traveling large districts on horseback, he was the same genial gentleman. No murmur or complaint ever escaped him. And during all the long, weary years of waiting as a superannuate member of this body, lasting more than 30 years, he took a keen interest in all the affairs of the Church, and especially in his own Conference, and was always a friend and strong supporter of his pastor--even though that pastor was a mere boy.
"He reared a family on a poor farm, receiving only a small annuity from the Conference, and yet he set the younger members of this body a splendid example by his liberal and unselfish contributions to the various enterprises of the Church. He was twice married: first on 3-8-1840 to Miss Rosanna Reed. She died in 1845. He was married on 7-26-1853 to Miss Lucy Jane May. There were nine children born to this marriage.
"He was born in Johnston County, NC, 8-11-1809, and grew to young manhood 20 miles from Raleigh, but removed with his parents to Gibson County, TN.
"In August 1829, he was converted and joined the Methodist Church, was licensed to exhort in May 1833, and licensed to preach in August, 1836 and appointed junior preacher on the Sandy Circuit. He was transferred by Bishop Andrew in 1837 to the Arkansas Conference and appointed to Mound Prairie Circuit. In 1839-41 he was sent as a missionary to the Choctaw Indians. He returned to Arkansas and served the Marion Circuit in 1843, Lagrange in 1844, Hempstead African Mission in 1845, Fayetteville Circuit in 1846, Osceola in 1847, Marion in 1848, was presiding elder on Pine Bluff District in 1849-50; Washington District 1851-53. He served Princeton Circuit in 1854; Hampton Circuit in 1855. He was supernumerary on Blue Bayou Circuit in 1856; Center Point Circuit 1857-58. He was made effective and traveled Ozan Circuit in 1860-62. He was superannuated at the Conference of 1867. He traveled the Ozan Circuit in 1868-69. At the close of this year he was again superannuated, which relation he sustained until 12-19-1904, when he was transferred from Earth to Heaven."
The following information was added by Andy Clay Harris:
He received a salary of $100 per year in 1840 on the Fayetteville Circuit.
His name is on the charter of the Methodist Hospital in Memphis. He donated the land for the Redland Methodist Church.
From the back of a painting of Avery's Chapel by Helen Bittick that now hangs in a home in Newark, NJ: "Alexander Avery founded Avery's Chapel after coming down the Mississippi on a raft from Alamo, TN. He first came to Indian Territory as a missionary to Indians for 2 years, then came to the community now called Avery's Chapel and founded the Methodist Church that still bears his name. At the close of the war between the states, the Methodist Church split, one becoming Northern Methodist and the other M.E. Church, South. Reverend Avery became angry and left, settling in the community known as Midway.
His nephew, Alexander McDougald, came to Arkansas from TN and settled near him.
1880 census, Hempstead County, Arkansas, Garland District:
Avery, Alex, age 70, farmer, born in NC of parents born in NC
Wife Lucy J, age 44, born in Arkansas of a father born in TN and a mother born in Indiana
Daughter Letsy C, age 18, born in Arkansas
Son Drury V, age 14, born in Arkansas
Son Andrew H, age 12, born in Arkansas
Son Wm. M, age 10, born in Arkansas
Daughter Lucy L, age 8, born in Arkansas
1900 census, Hempstead County Arkansas, Nowland Township
(first household is his son, 30-yr-old Willie A & family)
(second household is his son, 32-year-old Andrew H & family)
(third household is his son, 34-year-old Drury V & family)
(fourth household is his son, 42-year-old Alex B & family)
Avery, Alexander, age 90, born Aug. 1809, NC-NC-NC, in present marriage 46 years, occupation "N.G." (same as son Willie A)
Wife Lucy J, age looks like 62 and birth looks like June 1836 (which don't mesh), looks like mother of 6, 8 surviving (2 not her own?), AK-TN-IN
Granddaughter Lucy Wym, age 15, born May 1885, single, born in Arkansas of a father born in Georgia and a mother from Arkansas.